---
NIGHT KEEPER and SILENT TREATMENT
I'm making two new conceptual performance pieces, companions to each other in what they deny or allow.
Last year I started writing when I couldn't sleep. Though I like sleeping, I like the writing that has come out of this time. I also started thinking of the lessons we learn non-verbally, and wonder if an audience can learn from a performance that doesn't speak.
I'm starting to develop a performance from this writing, and I'm building a new kind of collaboration with the awesome Nicola Gunn . We're both making pieces we're somewhat stymied by and helping each other along.
Night Keeper will include not just words (!) but movement and songs (!!) mostly performed in the dark. Look for it, very carefully. Silent Treatment will be mostly silent and involve no mime.
---
PERFECT CITY

A paid working group on gentrification, Perfect City started as research, and has become a 20-year project about zoning, resistance and many things in between. We are housed at Abrons Arts Center. We host roundtables, performances, and workshops, write articles and meet weekly. You can join us. Our website is here.
Developed with multiple publics, and created with young people on the Lower East Side, urban planners, architectural interventionists and activists, Perfect City is funded by Jerome, Abrons, Rubin and Kickstarter. We have been presented by Crossing The Line, Prelude and Henry St. Settlement.
Current working group members include Nicky Chase, Tyler Diaz, Jahmorei Snipes, Tiffany Zorrilla, Emily Mun, Jaime Maitin and Aaron Landsman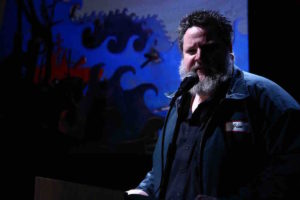 A suite of monologues with music and images – NYC premiere April 20-30, 2016. Performed by Jim Findlay and Frank Harts with animation by Brent Green and live music by Green, Kate Ryan and Catherine McRae. Additional imagery by Janet Wong and music by T. Griffin.
Available to tour.
Reviews:NY TIMES CRITIC'S PICK / TIME OUT NEW YORK CRITIC'S PICK
See some excerpts: EMPATHY SCHOOL and LOVE STORY excerpts from Aaron Landsman on Vimeo.
---
LANGUAGE REVERSAL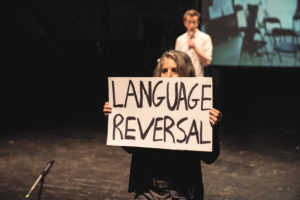 This new project or process was originally presented at La MaMa, with Culturehub, co-commissioned by ASU Gammage, and funded by the Trust For Mutual Understanding. A multi-country work about translation and oligarchy. Begun with Kulturanova. Continuing with Ogemdi Ude and Todd Lester. Go figure.
Look for us in early 2021 at Abrons, opening up our process and tools to you.
---
CITY COUNCIL MEETING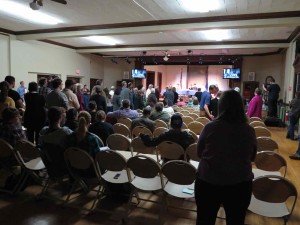 City Council Meeting is a multi-city performance project with director/dramaturg Mallory Catlett and designer Jim Findlay. We call it performed participatory democracy. Inspired by photographer Paul Shambroom, and by a truly Shakespearean city council meeting I attended in Oregon a couple years ago, this piece is about the poetry in bureaucracy, the architecture of power and the comedy of procedure. We have a website here. We are working on a book, and a school curriculum.
Redfern Arts Center, Keene, NH, October 2014
Zspace, San Francisco, CA, July 2014
HERE, NYC, May 2013
ASU Gammage, Tempe, AZ, February 2013
DiverseWorks Art Space, Houston, TX, October 2012
Here is a video clip from New York City, in 2013.
---
RUNNING AWAY FROM THE ONE WITH THE KNIFE
A three-character play about suicide and religious faith. A monk, a ghost and her sister wake together. Directed by Mallory Catlett, designed by Jim Findlay and Chris Kuhl, performed by Kate Benson, Juliana Francis, and Jim Himelsbach, with original music played live by C. Gibbs. Based on conversations with a member of The Little Brothers of Jesus, and on stories from friends. Developed through a residency at University Settlement, at P73's Yale Residency and at the UC Santa Barbara Summer Theater Lab. Funded by the Bossak-Heilbron and Jerome Foundations. Premiering in 2015 at The Chocolate Factory Theater.
There's a real nice context video that Peter Richards made, here
And the whole play is edited togehter so nicely here
Available to tour, publish or restage.