---
PERFECT CITY
Begun as research in 2012, Perfect City is a dialogic art process about the way cities likeNew York, London and Sao Paolo (among others) harness seemingly progressive values to create citadels for the rich.
Developed with multiple publics, and created with young people on the Lower East Side,  urban planners, architectural interventionists and activists, Perfect City is funded by Jerome, and will be presented by Crossing The Line,  in 2017. Made with housing activists GOLES, and Stanford Urban Planner Deland Chan.
Watch: Video of an A Blade Of Grass-sponsored panel discussion in 2014
---
EMPATHY SCHOOL / LOVE STORY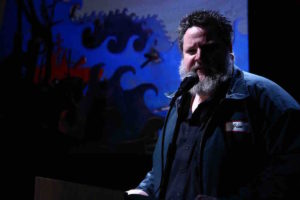 A suite of monologues with music and images – NYC premiere April 20-30, 2016. Performed by Jim Findlay and Frank Harts with animation by Brent Green and live music by Green, Kate Ryan and Catherine McRae. Additional imagery by Janet Wong and music by T. Griffin.
Available to tour.
Reviews:NY TIMES CRITIC'S PICK / TIME OUT NEW YORK CRITIC'S PICK
See some excerpts: EMPATHY SCHOOL and LOVE STORY excerpts from Aaron Landsman on Vimeo.
---
CITY COUNCIL MEETING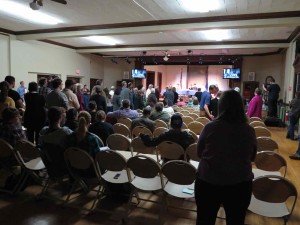 City Council Meeting is a multi-city performance project with director/dramaturg Mallory Catlett and designer Jim Findlay. We call it performed participatory democracy. Inspired by photographer Paul Shambroom, and by a truly Shakespearean city council meeting I attended in Oregon a couple years ago, this piece is about the poetry in bureaucracy, the architecture of power and the comedy of procedure. We have a website here. We are working on a book, and a school curriculum.
Redfern Arts Center, Keene, NH, October 2014
Zspace, San Francisco, CA, July 2014
HERE, NYC, May 2013
ASU Gammage, Tempe, AZ, February 2013
DiverseWorks Art Space, Houston, TX, October 2012
Here is a video clip from New York City, in 2013.
---
RUNNING AWAY FROM THE ONE WITH THE KNIFE
A three-character play about suicide and religious faith. A monk, a ghost and her sister wake together. Directed by Mallory Catlett, designed by Jim Findlay and Chris Kuhl, performed by Kate Benson, Juliana Francis, and Jim Himelsbach, with original music played live by C. Gibbs. Based on conversations with a member of The Little Brothers of Jesus, and on stories from friends. Developed through a residency at University Settlement, at P73's Yale Residency and at the UC Santa Barbara Summer Theater Lab. Funded by the Bossak-Heilbron and Jerome Foundations. Premiering in 2015 at The Chocolate Factory Theater.
There's a real nice context video that Peter Richards made, here
And the whole play is edited togehter so nicely here
Available to tour, publish or restage.
---
APPOINTMENT
Begun in 2009, Appointment is a series of collaborative, repeatable 15-minute pieces that are performed in offices for one viewer at a time. Using the rituals and environment of the workplace as a departure point,Appointment takes a situation that can seem beneath examination and turns it into a cause for pleasure and surprise. I see this as an iterative, ten-year project. I am developing the project through collaborations with theater and dance companies, individual artists, and students at performance training programs. Appointment is being archived, slowly, at this blog.
ASU Gammage, Tempe, AZ April 2014
NYU, September 2010: .
Ensemble Free Theater Norway, Oslo, February 2010.
Various sites, Chicago, Detroit, 2010
Prelude, NYC, with Sibyl Kempson, Daniel Alexander Jones, and Brent Green. Fall 2009